Regardless of what brings women to work with me, my passion is working at depth to find the underlying cause of someone's trauma and suffering so that healing and change are life-long and not just a sticky plaster fix."
– Jodie Gale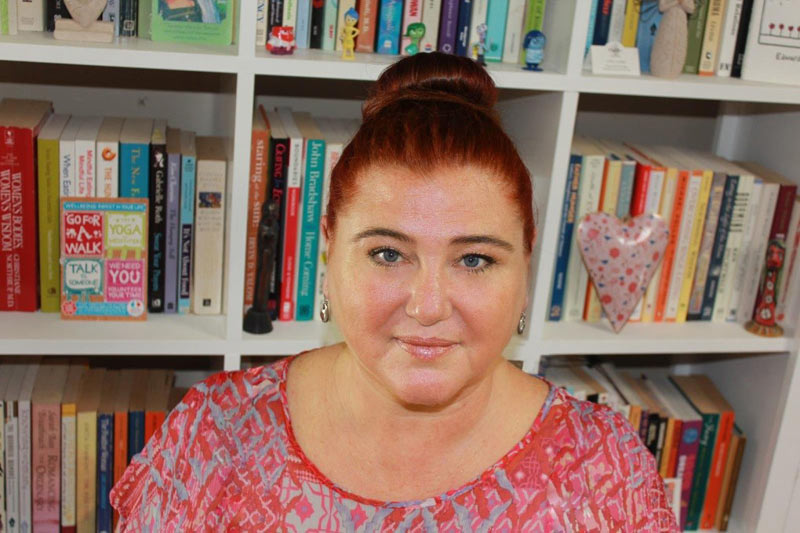 JODIE GALE: SOUL-CENTRED PSYCHOTHERAPIST, COUNSELLOR + EATING DISORDER THERAPIST ON THE NORTHERN BEACHES OF SYDNEY & VIA SKYPE
I am a Master's qualified soul-centred psychotherapist, counsellor + eating disorder therapist. 
For most of my adult life I lived in London where I practised counselling and psychotherapy, alongside working for charities, creative companies and corporate organisations. In 2006, after many travels and adventures, I returned home to the Northern Beaches in Sydney where I now balance being a stay at home mum to two children and run a busy part-time private psychotherapy, counselling, coaching and clinical supervision practice.
As one of Australia's leading specialists in women's emotional, psychological and spiritual health and well-being, I have 20 years' experience in the field of psychology. My work is featured in global counselling and psychotherapy blogs, psychotherapy journals, YES!, SHE KNOWS, CLEO Australia, Australian WellBeing, Australian Yoga Journal, MammaMia, BodyMatters, Australia Counselling, The Manly Daily, CAPA Quarterly, ABC & 2UE Radio, About.com, The World of Psychology and PsychCentral.
MY TRANSFORMATIONAL JOURNEY
Therapy works! I know this not only through watching 100s of women transform their lives but also through my own transformation. My journey as a therapist and counsellor began after having a peak experience swimming with wild dolphins in Ireland. This led to a deep exploration of my inner and outer life.
After many workshops and retreats for personal, psychological and spiritual development, I embarked on my own journey through weekly, long-term, depth psychotherapy where I recovered from early childhood interpersonal trauma, addiction and an eating disorder.
Finding a psychosynthesis psychotherapist who showed me unconditional love, empathy and acceptance, guided me in such a way that I was able to make a series of healthy choices, heal myself, my relationships and turn my unhappy life around.
WORKING WITH WOMEN
Each woman has her own individual story. I respect, value and honour that story.
I work with women from diverse backgrounds, careers, ages, races and cultures. The women I see in therapy come for a variety of reasons; some with day to day concerns, and others who are deeply wounded and traumatised.
Although I work with all aspects of women's health and well-being, I have a particular interest in the following areas:
Helping women to build a strong sense of self and self-worth
Helping women to heal from their past physical, emotional, mental, relational, sexual and spiritual abuse, concerns and trauma
Helping women navigate the mother/daughter relationship
Helping women to recover from eating disorders, disordered eating and other food, weight, excessive exercise and body image concerns
DISORDERED EATING, EATING DISORDER & EATING PSYCHOLOGY EXPERIENCE
I was the first psychotherapist in Australia certified in Dynamic Eating Psychology and Mind Body Nutrition through the Institute for the Psychology of Eating in the United States. I am an approved Health at Every Size therapist as well as a silver level ACFED practitioner – trained to work with eating disorders and psychological approaches for obesity. I am currently in clinical supervision and training with Monte Nido Founder, Carolyn Costin.
As the Disordered Eating Program Consultant for Byron Private Holistic Treatment Centre in the Byron Hinterland, former Assistant Clinical Director at a Sydney eating disorder outpatient treatment centre (where I was in supervision with, and using the Dr Anita Johnston model), and a preferred service provider for South Pacific Private Rehab, I regularly work with women who have participated in their programs for addiction, anxiety, co-dependency, depression and eating disorders.
Previous experience includes working at Riverglen Psychiatry & Mental Health Unit, a yearlong stint volunteering at the Eating Disorder Foundation of NSW (now part of The Butterfly Foundation) and psychiatry field education in the Eating Disorder and Feeding Unit at one of the world's leading children's hospitals; Great Ormond Street Hospital for Children in London.
Since 2000, I have been writing about eating disorders and other food, weight and body image concerns from a soulful and psycho-spiritual perspective.
Women looking for recovery from body image problems, yoyo dieting, chronic dieting and eating disorders are drawn to my approach because I provide a holistic, forward thinking and soulful perspective for transformation and growth.
COMPLEX TRAUMA & EARLY CHILDHOOD WOUNDING EXPERIENCE
My core psychotherapy training laid the foundations for my experience in working with complex trauma. Trauma plunges our relational system into chaos and exposes us to experiences of unbearable uncertainty. I am trained to work at depth to recover the dissociated and deeply split off parts using subpersonality work and other attachment, relational, somatic, psychodynamic and transpersonal based theories and techniques.
My trauma work experience includes field education with the feminist organization Women's Health NSW; the umbrella organisation for Leichardt Women's Health Centre, Sydney Women's Counselling, Waminda Aboriginal Health Centre and Rape & Domestic Violence Services Australia.
I have also worked with many women who are coming to terms with their adoption or foster-care history as well as those struggling with infertility, involuntary childlessness and women seeking alternative parenting paths, such as adoption or foster care.
A few years ago, I participated in an 8 week Circle of Security (attachment focused) Parenting Course and before that, continued professional development with attachment and trauma experts Dr. Dan Siegel, Dr. Dan Hughes, Allan Schore, Stephen Porges & Pat Ogden. Much of the last decade has involved me researching and training in the latest in attachment theory, disenfranchised grief, loss, the neuroscience of trauma and post traumatic growth.
All of this informs my work in private practice with women who have suffered from physical, emotional, mental, relational, sexual and spiritual abandonment, abuse and trauma.
WORKSHOPS, TRAINING & SUPERVISION WITH GLOBAL THOUGHT LEADERS
I regularly participate in clinical supervision and postgraduate training, workshops and conferences for professional, personal and spiritual development. I am committed to your psychological safety and well-being.
Some training and clinical supervision highlights with global leaders in the field of psychology and spirituality are:
Geneen Roth at the Women, Food & God retreat (San Francisco)
Marion Woodman BodySoul Rhythms® retreat on Conscious Femininity: somatic experiencing, body movement and dance, dream work, symbols and metaphors, mask making and fairy tales, journaling and silence (New York)
Carolyn Costin, clinical supervision and eating disorder coach training (USA)
Dr Anita Johnston, clinical supervision, the Dr Anita Johnston outpatient treatment model, and Eating in the Light of the Moon 20 week course (USA)
Brené Brown, The Power of Being Enough and the Gifts of Imperfection 6 week art journaling course (USA)
Oprah Winfrey meeting and discussing a spiritual approach to eating disorders (Sydney)
Women's retreats learning Sacred Women's Business: Indigenous wisdom, women's ceremony and ritual, transpersonal and spiritual approaches to mother-daughter relationships and female lineage (UK & South of France).
Since 1995, I have participated in experiential workshops and training in:
WHAT QUALIFIES ME TO SUPPORT WOMEN ON THEIR JOURNEY?
I studied for eight years in soul-centred psychotherapy and counselling in London where classic psychotherapy training is extremely rigorous. Alongside the academic and clinical components, my course was experiential and I was required to attend my own individual and group psychotherapy for the duration of the training.  My formal qualifications are:
Graduate Certificate in Professional Supervision (Clinical)
Masters in Psychotherapy (Middlesex University, UK)
Diploma in Psychosynthesis Psychotherapy (Institute of Psychosynthesis, UK)
Diploma in Therapeutic Counselling  – now awarded as Psychotherapeutic Counselling (Institute of Psychosynthesis, UK)
Eating Disorder Coach Certification (Carolyn Costin Institute, USA) (Candidate)
Eating Psychology Coach Certification (Institute for the Psychology of Eating, USA)
Bachelor of Social Work (University of Sydney)
Foundations of Modern Psychology (University of London, UK)
Systemic Relationship and Family Counselling (ACAP, Sydney)
Cognitive Behavioural Therapy Specialisation: CBT, MiCBT, ACT and DBT (ACAP, Sydney)
CertIV in Training and Assessment (Sydney)
Join the 1000+ soulful women on my list and be the first to receive my latest news, blogs & workshops for women's health & wellbeing + my FREE Befriending Your Body eBook when it is released.